0. Overview​ #
" In this tutorial, we will guide you through a simple Clicknium automation script, starting from scratch, to help you become familiar with Clicknium. The script will launch a Chrome browser and search for 'Clicknium' on Google. "

—— Clicknium Dev_team
1. Installation​ #
Please follow Quick Start first to install Clicknium and related extensions.
2. Create a Python file​ #
Following code will open a Chrome browser and get into Google website. (Make sure Clicknium Chrome Extension is ready.)
from clicknium import clicknium as cc, locator

def main():
    cc.config.set_license('your license key')
    tab = cc.chrome.open("https://www.google.com/")

if __name__ == "__main__":
    main()
3. Capture first UI locator​ #
In the next step, we need to use Locators to identity the UI element that we want to operate. Clicknium Recorder will help to catpure locators.
Click Capture button in LOCATORS tab of Explorer side bar or pressing `Ctrl+F10 for shortcut in VS Code.
Clicknium Recorder will pop up.
Hover mouse over the Google Search bar, it will be highlighted with a rectangle.
Press Ctrl+Click to capture locator for the target element, the locator will be added to the Locator Store listing in the tree area of Clicknium Recorder.
Capture search button with the same approach.
Click Complete button.
4. First line automation code​ #
After capturing UI locators, use Clicknium automation API and locators to input text into search bar and click search button.
reference locators in code by starting locator. , the following node will be listed in syntax popup for you to select and autofill.
tab.find_element(locator.chrome.combobox_search1).set_text("Clicknium")
tab.find_element(locator.chrome.button_googlesearch2).click()
You can add a line of sleep(3) to avoid VS Code shutting down the browser too quickly. For more about automation API, refer Clicknium Python package documents.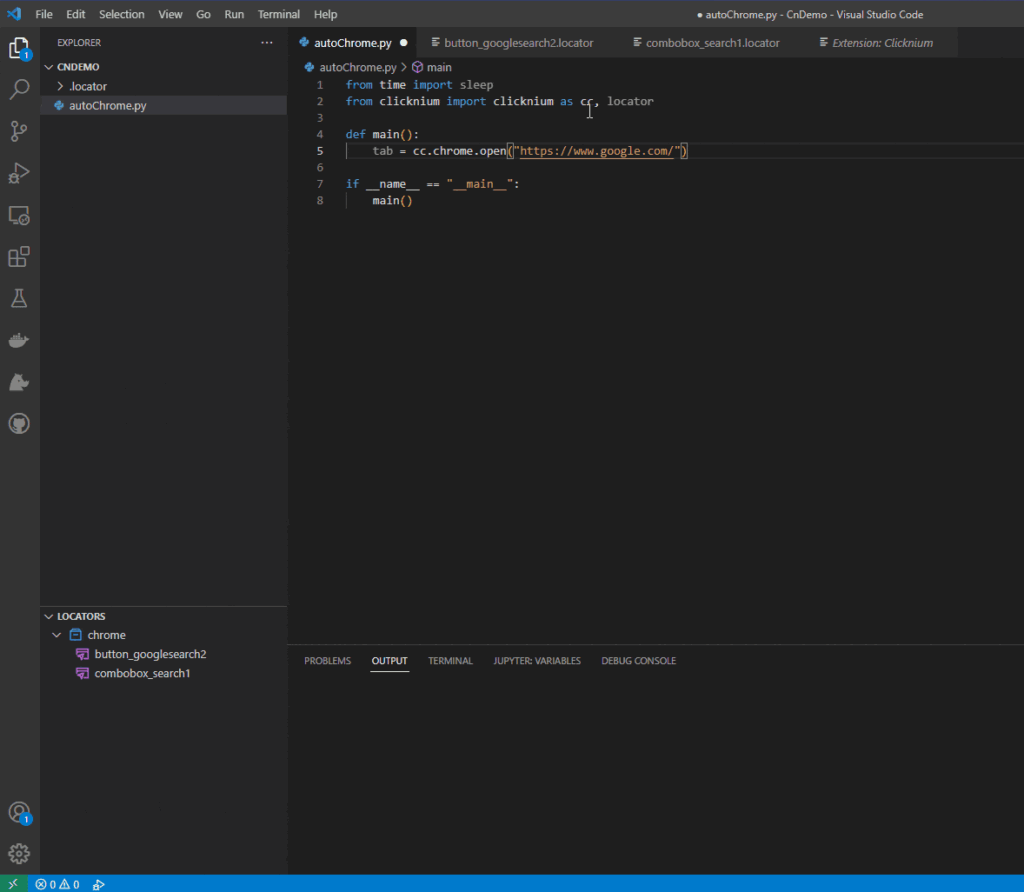 5. Run/Debug automation code​ #
Open related Python file, run this script by Ctrl+F5.
Open related Python file, debug this script by F5.